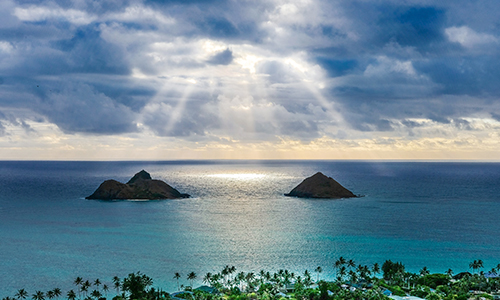 "Let them eat cake" is the inflammatory remark attributed to Marie-Antoinette, Queen of France over two hundred years ago.  
It cannot be proved that she ever used the actual phrase. But there is no denying that arrogance towards the less fortunate cost her and her husband their heads in 1793. It was a major factor in sparking the French Revolution. 
Last weekend, Ursula von der Leyen and her inner circle in the European Commission were being accused of directing a 'let them not have vaccines' policy towards the citizens of Northern Ireland.
The DUP leader Arlene Foster called the Commission approach "an act of aggression" and said it put in place a border on the island of Ireland.  
Robin Swann, Stormont's Health Minister, would later suggest the Brussels move had threatened the delivery of a consignment of the life-changing medicine to Northern Ireland. 
In a land where outrage is the default position, the atmosphere became febrile. On the 'it's all kicking off", colosseum of the airwaves, one caller declared: "I lived through The Troubles when there were people who were murdering people and going across to the Republic of Ireland and getting bed and breakfast and an evening meal from the Irish government." The remark was not challenged.
On RTÉ's Morning Ireland, Stephen Aiken OBE, the leader of the Ulster Unionist party and once the chief executive of the British Irish Chamber of  Commerce, accused the Minister for Foreign Affairs, Simon Coveney of "offensive behaviour" coming "like a proconsul from Europe, demanding we do this or do that". 
Bogeymen were being spotted and called out everywhere – the British Prime Minister, Boris Johnson; Leo Varadkar (without the 'r'), Simon Coveney. Interestingly, Micheál Martin didn't make the cut. 
But top of the charts were the European Commission, its president, Ursula van der Leyen and their cabal of heartless, overpaid, unaccountable bureaucrats.    
Following firm interventions from Dublin and London, the Commission acknowledged the utter folly of what was proposed and binned it. That Brussels U-turn was completed in 3 hours.
EU Commission president, Ursula Van Der Leyen
Last year, it took 3 months for the British government to abandon its plan to break international law, as articulated by Northern Ireland Secretary, Brandon Lewis, in the House of Commons. 
When Boris Johnston ditched the Brandon Lewis threat in the closing phase of the Brexit negotiations, the book was closed. There was no nose-rubbing. But the Commission's miscalculation won't be let disappear from political discourse in Northern Ireland.  
One could consider Ursula Van Der Leyen's miscalculation to be her version of Arlene Foster's Renewable Heat Incentive oversight. But such an approach would require an attitude of 'let's learn important lessons, implement them and move on'.
That is unlikely to happen in Northern Ireland. 
'Who are we and where are we going?'
The Brussels error of judgement has reopened the 'who are we and where are we going' debate. It has also prematurely fired the starting gun in next year's Northern Ireland Assembly election campaign. 
Virus-permitting, 20 March, 2021 will provide a timely reminder of the unique challenge of Ulster Unionist identity. Ireland are scheduled to play England in the Six Nations rugby championship in Dublin's Aviva Stadium.
Jacob Stockdale in action against England
Does a true unionist respectfully sing 'God Save the Queen' and then go to the loo, rustle the newspaper or put on the kettle during Amhrán na bhFiann? In the decisive moments of the game, does one want Jacob Stockdale from Lurgan Co Armagh to drop the ball or cross the line and ground it.  
England and Ireland can't both win. Nor can they both lose. A draw in the contest each year can't happen.
Our history and our lives are complicated. One of the theories explored by Fergal Keane in his recent, fine BBC Radio 4 series is that the Cromwells, Thomas and later Oliver, had Irish ancestors.
Michael Collins, a Fine Gael icon, participated in the taking of life in the pursuit of Irish independence. At the behest of Éamon De Valera, he travelled to London for negotiations, as Sinn Féin's Gerry Adams and Martin McGuinness did in the 1980's and many times later.  
In 1921, Collins signed up to the Treaty that included the acceptance of partition. The following year he was 31 when he was killed in Co Cork during the War of Independence.  
Colm Connolly's RTÉ documentary in 1980 had the fatal shot fired by Sonny O'Neill, who fought as a British soldier in the First World War and was awarded a State Pension for his actions in the Civil War and War of Independence.  
Some of the best-known unionist politicians plied their trade in the European Union. Rev. Ian Paisley served as an MEP for 25 years. Jim Allister became his DUP successor in 2004. After he left the party in 2009 and formed his Traditional Unionist Voice party (TUV), he sought but failed to get re-elected to Brussels.
The Rev Ian Paisley served as an MEP for 25 years
Nigel Farage, the founder of UKIP, clocked up 21 years on the Brussels payroll as an MEP, fighting from within the fight to get out. Sinn Féin, who now push 'EU membership' as a carrot north of the border in their drive for a united Ireland, once had their own version of Euroscepticism.    
The unavoidable truth, made bare by the past week is that Brexit has created identity and electoral challenges for unionism that will surface again and again. 
During the DUP's half-hearted pro-Brexit campaign which produced a result many of its advocates didn't expect, there was scant reference to any potential Northern Ireland negative consequences of a Leave victory. 
British prime minister Theresa May came to understand the complications that might arise. When she sought to take pre-emptive action, the DUP cut her adrift. Boris Johnson fully understood that divorce guarantees challenge as well change. But he stayed quiet about it and gleefully banked the DUP support that brought him to power.    
The deal he signed up to with the EU removed the possibility of the DUP using a veto at Stormont Assembly level to remove the Northern Ireland protocol. He effectively neutered their ability to say No. 
Unwelcome new realities after Brexit                       
The new reality in the post-Brexit world is the changed arrangements, evidenced at Larne, Belfast and Warrenpoint ports and in Amazon postal deliveries is only the beginning.
The deadlocked debate about the binary choice – border down the Irish Sea or border on the island of Ireland – may not last forever.
If the SNP gets its way and victory in May's Scottish Assembly elections is followed by a push for Scottish Independence, a UK/EU border somewhere north of Carlisle could become an option.  
Nicola Sturgeon's SNP supporters would give their eye teeth for the hybrid status, access to EU as well as UK markets, given to Northern Ireland as a result of Brexit. Boris Johnson would probably offer it to the belligerent Scots in a heartbeat to quieten them. But it is not within his gift.
Early next week the European Commission Vice President, Maros Sefcovic and British minister, Michael Gove, will meet in London. They will begin discussions about a range of measures that might resolve some of the problems flowing from the Northern Ireland protocol. 
Michael Gove
Gove is an able operator. But his innate cunning can sometimes veer towards treachery and come back to bite him. It happened last week. Boris, Gove and the British government were under pressure in the House of Commons from the DUP.    
Boris, true to form, delivered words not but guarantees, as he moved to put out the bush fires. Michael Gove dispatched a letter to Vice Commissioner Sefcovic, with a series of demands, in advance of their planned video conference. 
The Gove correspondence was like an instruction from HQ to an official in a tiny branch office. Somehow the 'get this done and don't mess about' letter was leaked. And it is most unlikely that Sefkovic, the recipient, was the leaker. 
So, Gove wasn't his full chipper self when the video conference with Vice President Sefcovac and Northern Ireland's first and deputy first ministers got under way on Thursday evening. Soon into the exchanges an apology was given for the Commission's vaccines threat.
But Commissioner Sefcovac was told by Arlene Foster that the Brussels attitude about the Protocol was 'Alice In Wonderland' territory. On occasions she seemed to have an issue with her phone as the Vice Commissioner spoke.
Michelle O'Neill had no such communications challenges and seemed in problem-resolving mode. She was keen that Minister Gove and Commissioner Sefcovac would issue a statement, re-iterating their shared commitment to the effective working of the Protocol. It duly came later that night. It was a very public set-back for the DUP's 'bin the Protocol' campaign. 
There are very obvious practical flaws in how the Protocol is working. Efforts will be made to fix them. But it is difficult to envisage any circumstances in which it will be ditched. The Protocol is part of an international treaty that was reached after four tortuous years of negotiations, a British general election and the removal of a Conservative party leader.
The issue with port inspections
The post-mortem is already under way about the process that led to the removal of local authority and Department of Agriculture staff at Northern Ireland ports on Friday.
The Mid and East Antrim Council rarely makes news beyond its own area. Like all local authorities it has funding challenges. It got into a significant kerfuffle over a decision to buy seats at a 2017 DUP fundraising function where Michael Gove was a guest speaker.
It is true that the Mayor, Peter Johnston, who made the Monday announcement of withdrawing staff from Larne Harbour, is a member of the DUP. But he had the full backing of his fellow councillors for the action. 
In his public statement, Mayor Johnston, stated, "trade unions….had raised concerns about suspicious activity".
The Port of Larne
Yesterday, three trade unions, NIPSA, United and GMB, wrote to the Mayor, stating they made no such claims, distanced themselves from the remarks and asked that the record be corrected. 
Following on swiftly from Mayor Johnston's initiative, Northern Ireland's Agriculture Minister, the DUP's Edwin Poots, recommended that for safety reasons, his staff working at the ports follow suit.
It was his final significant decision before he stood aside to undergo what had been delayed surgery to remove a kidney. There is cross-community support for his recuperation now under way.
On Friday night the Council announced that on foot of a PSNI assessment of the level of threat, its workers were returning to the post. Now attention switches to Department of Agriculture personnel, and its stand-in minister, Gordon Lyons, while Edwin Poots recovers. Will those staff also go back to work? 
The very obvious explanation for Arlene Foster's 'no short-term fixes, no kicking the can down the road' stance during the week is that she is a DUP party leader under extreme pressure.
The nightmare that is Covid may in time ease but the Brexit consequences will continue and grow. 
Jim 'the Crystal Ball gazer' or 'agenda setter'?
The DUP published its five-point plan on Wednesday. That's a full week after Jim Allister published his three-point plan. He called for the freezing of all involvement with cross-border bodies and the North-South ministerial Council; the unionist veto of an EU-related proposal coming before the Northern Ireland Executive and for Agriculture Minister, Edwin Poots, to withdraw staff involvement at Irish Sea border checks. Jim the crystal ball owner or Jim the agenda setter? 
In Stormont, Jim Allister is a one-man band. But a highly effective one. After an earlier falling out he was brought back into the DUP by Peter Robinson in 2004 and he seamlessly took over Ian Pailsey's seat in the European Parliament. He parted company with the DUP over power-sharing with Sinn Féin and set up his Traditional Unionist Voice organisation. 
He is a qualified barrister. In adversarial mode, from a courtroom background where winner takes all, he is among the finest orators in the Stormont chamber. He is a consistent critic of the mandatory coalition power-sharing model that emerged from the Good Friday Agreement. He frequently refers to the "evil genius" of the Northern Ireland protocol and sees it as part of a plan to "create political unity on the island of Ireland".
Jim Allister of the Traditional Unionist Voice
In every election since Jim Allister upped sticks from the DUP, he has failed to translate his opinion poll popularity into seats. The obvious reason why is that Mr Allister is unable to clone himself and the calibre of candidates his TUV party attracts has failed to get traction with the electorate. 
But the current pumped-up atmosphere, with accusations of treachery by London, Dublin and Brussels, creates another possibility.  
What if a handful of serving DUP Assembly members, uncomfortable with any gradual shift towards middle-ground politics, were to defect to Jim Allister's TUV before next year's election?
Their 'name recognition' factor could bring the TUV the seats it has so far failed to capture. The only place they could come from is the DUP.
In the current Northern Ireland Assembly the DUP has 28 representatives, Sinn Féin has 27. Any significant loss of DUP seats would open the door to a Sinn Féin first minister. Would the DUP go back into government on such terms in May 2022 or would it pull out of power-sharing? 
Jim Allister will turn 68 in April. He has never served as a minister in a power-sharing administration and wouldn't do so in the current model.  
But events of recent times have brought a new dimension to his bitter disagreement with the DUP. He describes the Northern Ireland protocol as "more perilous to the Union than anything I have experienced in my lifetime".
For him, Brexit is the political gift that will keep on giving.    
Where next for the DUP?
There is a very obvious reason why Arlene Foster's DUP leadership position seems secure. Among the 'traditionalists' there is no candidate who could credibly challenge her and gain the same or increased electoral support.
Among the Westminster MP's Ian Paisley junior is in that category. Sammy Wilson is too. He will be 68 in April and there will always be a hankering disappointment that his tenure as a power-sharing minister at Stormont was cut short.
Edwin Poots is probably the most prominent of the Assembly team: in negotiations he sometimes showed a pragmatic streak and, surprisingly, on occasions found common ground with the now retired Gerry Adams. But it is unlikely he would find himself in a party leadership role. 
DUP leader, Arlene Foster
Other possible candidates have centrist instincts – the likes of Nigel Dodds, Jeffrey Donaldson and Gavin Robinson. Two are in the House of Commons, the other in the House of Lords. In the Assembly there is no forceful rising star. None is making a case to take over as leader.
A factor to bear in mind is Arlene Foster herself. The pressures of leading a party from a Fermanagh-base in constantly challenging times take a toll. The feisty public presentation has a private, sensitive, self-doubting side.
The DUP, like Sinn Féin, its main partners in government, has made an enormous journey from party of protest to party of government. On some social issues it has moved from a strict conservative stance towards a middle ground position. It has LGBTQ members among its elected representatives, in its homes and among its voters. It has long-standing connection with working class voters on housing and health issues and it close to the farming and business sectors.  
But there is a tussle and a tension between those who want to retreat towards the right and others who argue the future is in middle ground politics.
As the DUP and unionism grapples with issues about its identity and its future during the Centenary of Northern Ireland's foundation, it would be short-sighted to wallow over those difficulties.
They live in the next street or over the porous border. Building a wall is not an option.
They are our neighbours.
Brexit has not and will not change that.