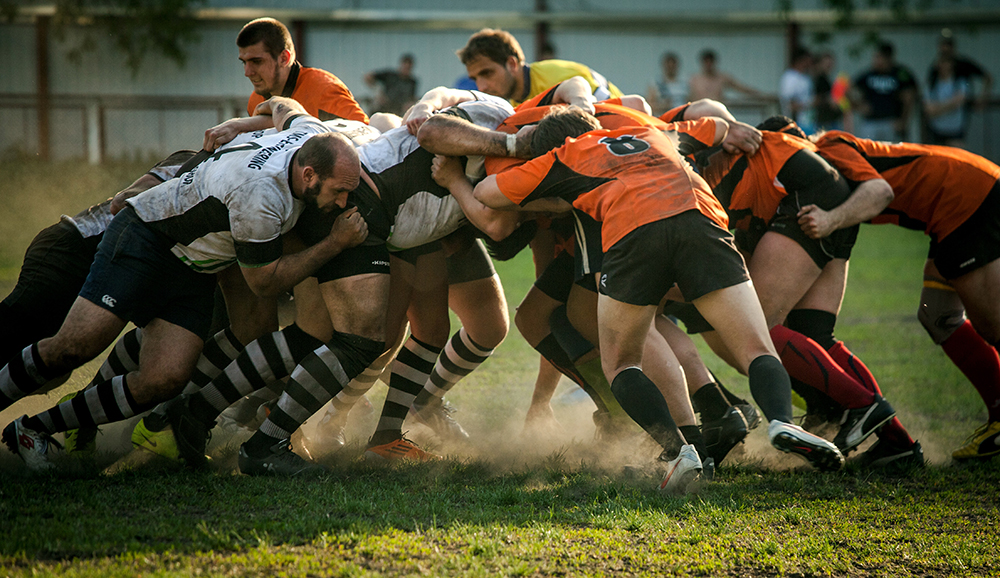 In a career filled with remarkable comebacks, Tiger Woods faces his toughest recovery of all.
Woods was driving through a sweeping, downhill stretch of road through coastal suburbs of Los Angeles when his SUV struck a sign, crossed over a raised median and two oncoming lanes before it toppled down an embankment, coming to a halt on its side.
The airbags deployed. A sheriffs deputy poked his head through a hole in the windscreen to see Woods, still wearing his seatbelt, sitting in the drivers seat.
When he told the sheriff's deputy his name was Tiger, Carlos Gonzalez immediately recognised it was Tiger Woods.
The crash caused significant injuries all down his right leg that featured rods, pins and screws during what was described as a long surgical procedure at Harbor-UCLA Medical Center.
READ MORE:* Why Tiger Woods was nervous about a PGA Masters comeback – before his car crash* Tiger Woods accident: Justin Thomas fights back tears, support pours in after car crash* Can stellar golfer Tiger Woods pull off yet another miracle comeback?
Anish Mahajan, the chief medical officer, said Woods shattered tibia and fibula bones on his right leg in multiple locations. Those were stabilised by a rod in the tibia. He said a combination of screws and pins were used to stabilise additional injuries in the ankle and foot.
A statement on his Twitter account said he was awake, responsive and recovering.
I will say that its very fortunate that Mr. Woods was able to come out of this alive, said Carlos Gonzalez, the deputy from the Los Angeles County Sheriffs Department who was the first on the scene after a neighbour called 911.
As if his body hasnt endured enough, Jon Rahm, the No. 2 player in the world, said from the Workday Championship in Florida. I just hope he can get out of the hospital after recovery and he can still play with his kids and have a normal life.
Tiger Woods was in California for a promotional shoot with Golf Digest after hosting the PGA Tour's Genesis Invitational over the weekend.
The single-car crash was the latest setback for Woods, who at times has looked unstoppable on the golf course with his 15 major championships and record-tying 82 victories on the PGA Tour. He is among the most recognizable sports figures in the world, and at 45 with a reduced schedule from nine previous surgeries, remains golfs biggest draw.
He won the 2008 US Open with shredded knee ligaments and two stress fractures in his left leg. His personal life imploded on Thanksgiving weekend in 2009 when he was caught having multiple extramarital affairs, and he returned to win his 11th award as PGA Tour player of the year and reach No. 1.
And then after four back surgeries that kept him out of golf for the better part of two years, he won the Masters in April 2019 for the fifth time, a victory that ranks among the great comebacks in the sport.
Now its no longer a matter of when he plays again the Masters is seven weeks away but if he plays again.
No charges were filed, and police said there was no evidence he was impaired.
Woods was in Los Angeles over the weekend as the tournament host of the Genesis Invitational at Riviera Country Club. Monday and Tuesday had been set aside for Discovery-owned GOLFTV for Woods to give playing tips to celebrities. A tweet Monday showed him in a cart at Rolling Hills Country Club with comedian David Spade. He also worked with NBA great Dwyane Wade, who posted a video to his Instagram account.
Workers move Tiger Woods' vehicle out of the embankment. Authorities say the weather was not to blame for the crash.
Woods was headed to Rolling Hills on Wednesday (NZT) when the accident happened.
It was a great day, Wade said on Turner Sports, where he is a studio analyst. And I woke up today so proud to be able to post that moment for the world, like a little snippet of our moment together. And I took a nap, and I woke up to the news. So, you know, just like everybody out there, my thoughts and prayers are all to his loved ones.
Thoughts and prayers have come from everywhere Jack Nicklaus and Michael Jordan, Mike Tyson, and former Presidents Barack Obama and Donald Trump. Woods played golf with both of them, and Trump awarded him the Presidential Medal of Freedom in 2019 after perhaps his great triumph the Masters after he had gone through four back surgeries.
Woods had a fifth back surgery, a microdiscectomy, on Dec. 23, just three days after he played the PNC Championship with his son Charlie, who now is 12. Woods also has a 13-year-old daughter, Samantha.
The news put a damper on the World Golf Championship in Florida, where Woods was eligible to play if healthy.
Im sick to my stomach, said Justin Thomas, No. 3 in the world and among the younger players whom Woods has embraced. It hurts to see one of my closest friends get in an accident. Man, I just hope hes all right.
The crash happened about 7:15 a.m. as he drove his courtesy vehicle from the Genesis Invitational through the upscale suburbs. Gonzalez says he sometimes catches people topping 129 km/h and crashes are common.
Los Angeles County Sheriff Alex Villanueva tells media Tiger Woods was conscious after the crash and able to give his name as Tiger.
Police said Woods was alert as firefighters pried open the front windshield to get him out. Los Angeles County Sheriff Alex Villanueva said the airbags deployed and the inside of the SUV stayed mostly intact, which gave him a cushion to survive the crash.
Authorities said they checked for any odour of alcohol or other signs he was under the influence of a substance and found none. They didnt say how fast he was driving.
This is the third time Woods has been involved in a car investigation. The most notorious was the early morning after Thanksgiving in 2009, when his SUV ran over a fire hydrant and hit a tree. That was the start of shocking revelations that he had been cheating on his wife with multiple women.
In May 2017, Florida police found him asleep behind the wheel of a car parked awkwardly on the side of the road. He was arrested on a DUI charge and said he had an unexpected reaction to prescription medicine for his back pain. Woods later pleaded guilty to reckless driving and checked into a clinic to get help with prescription medication and a sleep disorder.
Tiger Woods suffered leg injuries in the one-car accident and is undergoing surgery, authorities and his manager said.
Woods hasnt won since the Zozo Championship in Japan in fall 2019, and hes reduced his playing schedule in recent years because of injuries. Besides his five back surgeries, hes had four surgeries on his left knee.
He was asked during the CBS broadcast Sunday at Riviera about recovering from his back surgery in time to play the Masters and Woods replied, God, I hope so. I've got to get there first.
Tiger Woods major milestones
October 2004: Marries Elin Nordegren.
June 2007: Nordegren gives birth to their first child, daughter Samantha, a day after Woods finishes runner-up in the US Open.
June 2008: Wins the US Open in a playoff at Torrey Pines for his 14th major, four short of the record held by Jack Nicklaus. A week later, he has reconstructive surgery on his left knee to repair a torn ACL and two stress fractures in his left tibia. He is out for eight months.
February 2009: Wife gives birth to their son, Charlie.
August 2009: Loses a two-shot lead in the final round of the PGA Championship to YE Yang, the first time Woods has lost a 54-hole lead in a major.
Tiger Woods was pulled from his vehicle through the smashed windshield and did not need the 'jaws of life' to free him.
November 2009: Crashes his SUV into a tree and a fire hydrant outside his Windemere, Florida home. Within a few weeks, his personal life unravels with reports of multiple extramarital affairs and he loses major sponsorship endorsements. He spends 45 days in a clinic and does not return to golf until the 2010 Masters.
August 2010: His divorce is finalised.
March 2012: Wins the Arnold Palmer Invitational for his first PGA Tour victory since the scandal in his personal life.
April 2014: Has back surgery a week before the Masters and misses Augusta National for the first time.
August 2014: Misses the cut in the PGA Championship and says he will take the rest of the year off, including the Ryder Cup, to get healthy.
February 2015: Looking like an amateur with his short game, shoots 82 in the Phoenix Open to miss the cut. A week later at Torrey Pines, withdraws after 11 holes. Announces he is taking time off to work on his game, saying that my play, and scores, are not acceptable for tournament golf.
April 2015: Returns at the Masters, his chipping issues gone, and ties for 17th.
Tiger Woods made "memories for a lifetime" playing alongside his 11-year-old son Charlie at the PNC Championship.
June 2015: Shoots an 85 in the third round of the Memorial, his highest score as a professional.
August 2015: Misses the cut in his third straight major at the PGA Championship.
September 2015: Has a second back surgery.
October 2015: Has a third procedure on his back.
December 2015: In a sombre press conference at his Hero World Challenge, Woods says of his future, So where is the light at the end of the tunnel? I don't know. He says he wants to play again and anything else he achieves will be gravy.
January 2017: Makes first PGA Tour start since 2015 and misses the cut at Torrey Pines.
April 2017: Has a fourth back surgery, this one to fuse his lower back.
May 2017: Arrested and briefly jailed in Jupiter, Florida, on suspicion of DUI. Police find him asleep behind the wheel of his car in the early morning with the engine running. He attributes it to a bad combination of pain medication.
US golfer Justin Thomas fights back tears as he expresses his shock at Tiger Woods' car accident in Los Angeles.
October 2017: Woods pleads guilty to reckless driving and agrees to enter a diversion programme. Prosecutors drop the DUI charge under the plea agreement.
December 2017: Returns to competition at his Hero World Challenge, posts three rounds in the 60s and ties for ninth against an 18-man field, 10 shots behind.
July 2018: Takes the lead in the final round of the British Open, only to make double bogey on the 12th hole and finish in a tie for sixth.
August 2018: Closes with a 64, his lowest final round ever in a major, and is runner-up to Brooks Koepka in the PGA Championship.
September 2018: Wins the Tour Championship for his 80th career victory on the PGA Tour, leaving him two shy of the record held by Sam Snead.
April 2019: Wins the Masters for his fifth green jacket and 15th major title, his first in 11 years. He moves within three victories of Jack Nicklaus' record for major championships.
December 2020: Has a fifth back surgery, a microdiscectomy.
February 23, 2021: Is in a single-car accident in suburban Los Angeles and is extricated from the rolled over vehicle, suffering leg injuries that require surgery.