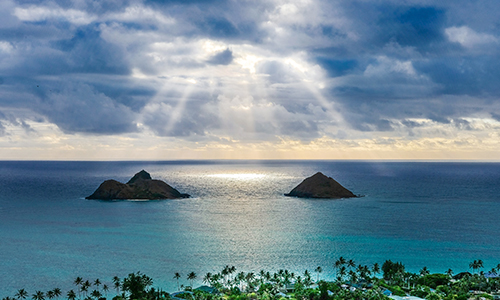 China also operates an armed fishing fleet, known as the maritime militia, with vessels often harassing other countries' shipping as part of so-called grey-zone tactics.
Senator Wong said security experts had questioned whether the "multifunctional" facility would have other uses, and asked why the federal government had not intervened given it has responsibility for border security and foreign relations.
She said Australian Border Force and the Department of Foreign Affairs and Trade both had a presence on nearby Thursday Island.
"How did the Morrison government not see this coming?" Senator Wong said.
"Scott Morrison talks a lot about protecting our sovereignty, but this episode raises serious questions about whether hes actually delivering what he says. Someone in his government has clearly dropped the ball here."
Senator Wong said Border Force's presence in the Torres Strait relied on an "ageing" fleet of Dash 8 aircraft and a few vessels at sea, while the government had failed to deliver on a 2018 promise of new drones to work alongside a network of undersea sensors to protect Australias shores.
PNG Fisheries Minister Lino Tom on Tuesday said PNG was "within its sovereign rights to attract much-needed investment" but noted growing concern, according to the ABC.
Mr Tom said the deal was not finalised and existing bilateral treaties would be respected.
Foreign Minister Marise Payne earlier this month told the Senate, in response to questions from independent senator Rex Patrick, that the Australian government had been in touch with PNG officials to ensure Australian interests were "fully safeguarded". Border Force would continue to patrol the waters.
"We expect all fishers in the Torres Strait region to follow respective Australian and Papua New Guinea laws, and international obligations," Senator Payne said.
Commercial-scale fisheries would not be considered a traditional activity under the Torres Strait Treaty and would not be permitted."
Australian concern over the Solomon Islands signing a deal with Chinese technology company Huawei to build an undersea cable, prompted the Turnbull government to counter and build a cable linking Australia, PNG and the Solomons at a cost of $137 million.